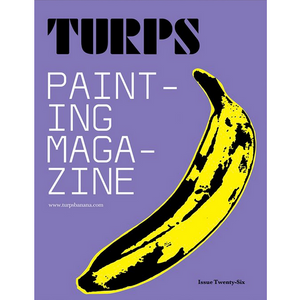 Turps Banana #26 (damaged spine)
Regular price
$18.00
Sale price
$26.00
Unit price
per
 Turps Banana Issue 26
Condition: New (spine is damaged)
Language: English
80 Pages 
20.96cm x 27cm (8.25" x 10.63")
Published in

 London, UK

Autumn 2022

Frequency: Biannual
Daniel Sturgis in conversation with Machiko Edmondson
Juan Bolivar by Andrew Grassie
Francis Bacon: Outside, Inside, Around the Box by Colin Smith
Rebecca Gilpin interviews Mary Heilmann
Still Life: Dan Howard-Birt on Georges Braque
Matt Lippiatt meets Cecily Brown
Katie Pratt talks with Vivien Zhang
Mitch Speed writes about Rebecca Watson Horn's Paintings
Gareth Kemp on Caspar David Friedrich's Cairn in Snow
Charles Williams and Matthew Askey see the Funny Side
Michael Szpakowski on a work by António Dacosta
Abstract/Figurative: Paul Allender on George McNeil
A Letter from Belgium: Colin Smith on Flexboj & L.A.
The idea to establish a magazine about painting, made predominately by painters, became concrete in 2003 during one of our many discussions - arguments about our own work and other painters that interested us.
We, along with most of our friends, have a long history of such discussions (usually in the pub) and built on fairly regular studio visits. These discussions are vital to us and we wondered if there might be a demand for a magazine that could act as a forum for the ideas and views of painters. 
Partly because art criticism is not a science and because we believe good painting is not driven by ideological principles, Turps does not carry a singular position or attitude about painting, but is as open as possible, in order to allow dialogues to develop.
What excites us most is that, uniquely, the contributors are not critics or professional art writers, but practitioners whose contributions will hopefully illuminate their own work as they reflect on their contemporaries and their interest in the history of painting.
---
Share this Product
---