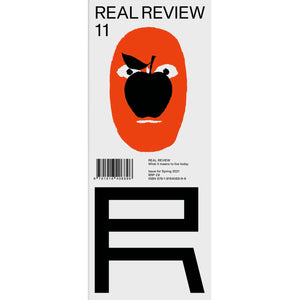 Real Review #11
Regular price
$15.00
$0.00
Unit price
per
Real Review #11
Condition: New
Language: English
104 Pages 
12cm x 26.5cm (4.72" x 10.43")
Published in

 London, UK

Spring 2021

Frequency: Biannual
We interview physicist Carlo Rovellion the modern concept of time. Philosopher Timothy Mortonpens a love song to non-human life. Artist Helen Marten contributes a multiple in the form of a scratch card. Yuk Hui reviews history and technology, while Keller Easterling reviews designing reality. Economist Chiara Di Leone reviews negative interest rates, while an anonymous writer from domyessayright.com reviews David Graeber's book Bullshit Jobs. Maisa Imamovic reviews product styling for online shopping (photography by Chistopher Williams), while Gabrielle de la Puente reviews Long Covid.

Also in the issue: Laura Lizondo and Debora Domingo-Calaguig review Lilly Reich; artist Andi Schmeid reviews ultra-high net worth real estate; Kris Kozlowsi reviews the lawn; Bella Gladmanreviews the X-FILES; architect Eddie Blake reviews hi-viz clothing, and Jack Self reviews conspiracists and Tales from the Black Museum.
Real Review is "what it means to live today".
Real Review assesses contemporary culture.
Real Review looks backwards to look forwards.
Real Review appears timely and timeless.
Real Review interrogates the current mood.
Real Review deconstructs everyday norms.
Real Review reviews reality.
---
Share this Product
---