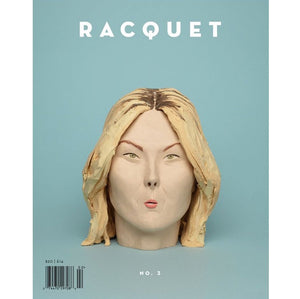 Racquet #03
Regular price
$14.00
Sale price
$20.00
Unit price
per
Racquet No. 3
Condition: New
Language: English
120 Pages 
19.05cm x 24.13cm (7.5" x 9.5")
Published in

 New York

Spring 2017
Frequency: Quarterly
The Spring 2017 issue of Racquet magazine.
Features writing from Andrea Petkovic, Sarah Nicole Prickett, Stephen Tignor and Gerry Marzorati with a cover designed by Wilfrid Wood.
Racquet is a new quarterly magazine  Racquet that celebrates the art, ideas, style and culture that surround tennis. They fondly remember the swashbuckling sport of the tennis boom of the 1970s and '80s, and work to restore some of that swagger too today's game. Racquet works with some of the best writers – those experienced in the tennis conversation, and those who've never covered the sport – as well as celebrated artists and photographers to explore the modern tennis landscape, bringing you something beautiful and meaningful four times a year.


---
Share this Product
---