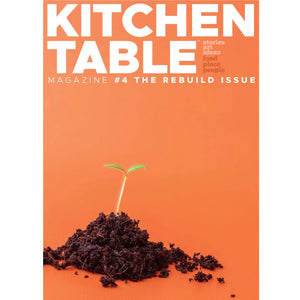 Kitchen Table #04
Regular price
$8.00
Sale price
$9.99
Unit price
per
Kitchen Table #04 The Rebuild Issue
Condition: New
Language: English
78 Pages 
17.14cm x 23.8125cm (

6.75

" x 9.375")
Published in

 Portland

2022
Frequency: Biannual
Political, cultural, and environmental crises have exposed the cracks in our food system. Small restaurants are forced to pivot again and again as they try to survive, and the people who feed us—whether they work in grocery stores, farms and fields, or our favorite neighborhood café—struggle for protections and fair pay while being called "essential." How can we reclaim our kitchens and make nourishing food accessible to all?
On the cover: Dorothy Porker's stark image of a fragile tomato seedling on an overwhelmingly orange background conveys resilience, hope, and a new beginning in an unfamiliar and chaotic world.
Get in the groove with a food-themed playlist or a musician's easy vegan recipes; squirm in delight through a look at food in horror flicks; a Vermont creamery weathers the turbulence of climate change and the housing crisis; learn to stock your pantry and what to do with it; a look behind the powerful women on the Ten Towers Cider labels.  
Return to a place of comfort with illustrations of the nostalgic snacks of a childhood in Malaysia; Elsy Dinvil brings the flavors of Haiti to the Pacific Northwest; a comic strip about eating at the Waffle House on Valentine's Day. 
Did you fall asleep during the genetics unit in high school biology too? Lane Selman, founder of the Culinary Breeding Network, provides a much more interesting refresher as she unveils the mysterious process behind developing plants that taste great and thrive in increasingly tough environmental conditions, all the while battling Big Ag.   
On traditional Paiute land in Central Oregon, meet Indigenous farmer Upingakraq Spring Alaska Schreiner, and to learn how she supports communities through the Central Oregon Seed Exchange, the Northwest Tribal Seed Bank, and her crops of Native foods, botanicals, produce, and herbs.
---
Share this Product
---