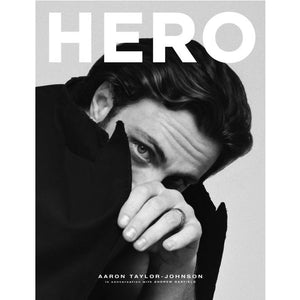 Hero #27
Regular price
$15.75
$0.00
Unit price
per
Hero #27

Condition: New
Language: English
290 Pages 
22.86cm x 30cm (9" x 11.81")
Published in

 London, UK

Spring/Summer 2022

Frequency: Biannual
Aaron Taylor-Johnson stars on the cover – fresh from exchanging blows with Brad Pitt in upcoming action thriller Bullet Train, and with filming currently underway for his next leading role: Kraven the Hunter. In an experimental, cut-up, re-worked and reimagined series of images created in collaboration with Taylor-Johnson, we redefine what a portrait of an actor can be.
Arthur Tress is one of the most eminent and consistently imaginative photographers of his generation, his series The Dream Collector was a turning point in staged surrealist photography. We travel to his home in San Francisco and Tress walks us through a very special retrospective edit of his life's work.
Actor Thomas Brodie-Sangster reflects on playing punk Svengali Malcolm McLaren in Danny Boyle's upcoming Sex Pistols mini-series, Pistol, and is in conversation with co-star Emma Appleton.
Prolific photographer Ari Marcopolous shares an exclusive photography portfolio entitled entitle You'll love staples Here's Why: documenting friends, family and landscapes.
Hero gets on the mat with the Stanford University wrestling team ahead of their first 21/22 season match. Documented by Hero Editor-in-Chief Fabien Kruszelnicki, Hero talks to head coach Rob Koll about his 3,000 mile move across the country to re-shape the team.
Jordan Bolger reconnects with fellow actor and The 100 co-star Tati Gabrielle for an exploration into creative ambition: Bolger's currently on set in South Africa filming Viola Davis new historical epic The Woman King,
Olly Sholotan is 2022's Carlton Banks, reimagining the cult character for Morgan Cooper's new dramatic retelling of Will Smith's Fresh Prince story. Days after the trailer sent the internet wild, the young actor speaks with Josephine Langford who offers some stellar words of advice.
Breaking new ground, UK-based satellite company Skyrora are set to be the first to launch on British soil: a seminal moment for the British space sector. We discuss with operations manager Derek Harris what this means for mankind, and beyond.
Plus: Leonardo Veloce and Davey Sutton preview Kim Jones' Dior Fall collection, Fabien Kruszelnicki captures Celine Homme by Hedi Slimane SS22 in a series of lyrical portraits and Vidar Logi and Edda Gudmundsdottir present a warped take on a high school yearbook. Artistry and romance collide in Poets, a story by Daniel Archer and HERO Senior Fashion Editor Peghah Maleknejad, who also shoots the defining looks of SS22 for our regular collections story Amazing with photographer Isabelle Wenzel.
---
Share this Product
---