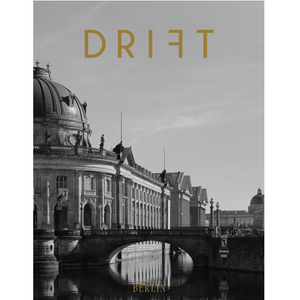 Drift #13
Regular price
$30.00
$0.00
Unit price
per
Drift: Volume 13: Berlin
Condition: New
Language: English
160 Pages
21.59cm x 28cm (8.5" x 11")
Published in New York, NY
Frequency: Twice a year, Spring and Fall.
Spring 2023
Through centuries of war and decades of socialist strife, Berlin has been a crucible for much of European history. But out of its struggles, the city has emerged as the capital of one of the continent's strongest economies as well as an exciting epicenter of modern-day counterculture. And at the intersection of Berlin's bohemian neighborhoods, indie music scene, and exploding start-up community are the many coffeehouses, roasteries, and cafes that dot the city. This issue surveys some of these dynamic meeting places and spaces that Berlin offers to locals and visitors alike.
Coffee sits in the background of some of the most important moments in our lives: the first time we told new friends we'd like to get to know them better, a second date, a business meeting, a passion project completed, a time we caught up with long-lost loved ones after years apart. More than anything else, coffee is tied to a sense of place and a sense of community.
Drift is about coffee, the people who drink it, and the cities they inhabit. Our collection of writers and photographers, alongside coffee shop owners, baristas, streetcart vendors, and patrons, capture a glimpse of what it's like to drink coffee in a city at the time the magazine is printed. Each issue highlights a different city.
It's about wandering the streets aimlessly, cup of coffee in hand, and learning more about what a place has to offer, whether you've been there for 25 minutes or 25 years. Coffee helps us chart the geography of our cities. It's about seeing those cities with fresh eyes, as visitors or long-time residents, and trying to understand what makes them tick.
---
Share this Product
---