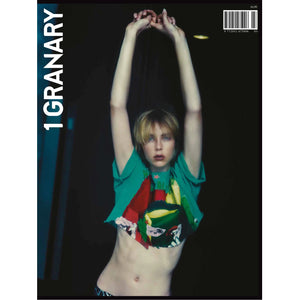 1 Granary #03
Regular price
$35.00
$0.00
Unit price
per
1 Granary #03
Condition: New
Language: English
240 Pages 
24cm x 32cm (9.45" x 12.6")
Published in

 London, UK

2015
Frequency: Yearly
In Dazzling in an age of austerity, 1 Granary features the most promising talent from CSM's Fine art, Fashion and Jewellery courses, alongside emerging designers like Richard Malone, Tigran Avetisyan and Rory Parnell-Mooney who have won the hearts of support platforms Fashion East and V-Files for their honesty and vision. Those features are not for the fainthearted, just for the record, the boys bite; they're opinionated and rightly so. 1 Granary spoke about porn with Simone Rocha, sipped champagne with Delphine Arnault (and saw one of CSM's tutors systematically evading Kanye West the same night), listened to heartfelt stories of Thomas Tait who was on the verge of closing his brand before winning the first ever LVMH Prize, and similarly to those of Meadham Kirchhoff who can win awards for giving us the longest list of strong quotes about the reality of having a fashion house that doesn't put its efforts in pleasing the industry. Adrian Joffe spoke with us over (uneaten) cookies and coffee about why those who know what's cool aren't the ones in charge, 1 Granary cuddled with Lucian Freud's whippet Eli while talking with his long-time friend David Dawson in the painter's former house, 1 Granary even nearly took a seat in Floriane de Saint Pierre's shrink chair.
A bridge between fashion education and the industry.
An independent editorial magazine aiming to promote emerging talent in the fashion and art industry globally. 1 Granary connects like-minded artists and professionals, and assists fresh graduates to transition and assimilate into the industry.  Through the magazine, 1 Granary brings together legendary photographers, stylists and art directors to collaborate with young artists and students to create innovative and state-of-art projects. By engaging exceptional talent, both established and emerging, 1 Granary creates editorials that become a source of inspiration, influence and debate across fashion, art and design.
---
Share this Product
---